Class Descriptions
Creative Movement is designed for 3 and 4 year-olds and focuses on improving loco-motor skills, building a movement vocabulary and exploring music and rhythms. Most importantly, the class allows each child to explore his/her own creativity.
Pre-Ballet is designed to nurture the love for dance that comes naturally to many 5 and 6-year-olds. These young dancers are introduced to ballet vocabulary and basic ballet technique. While focusing on body alignment, the students are asked to challenge their dance and movement skills while learning ballet etiquette and the stories of classical ballets.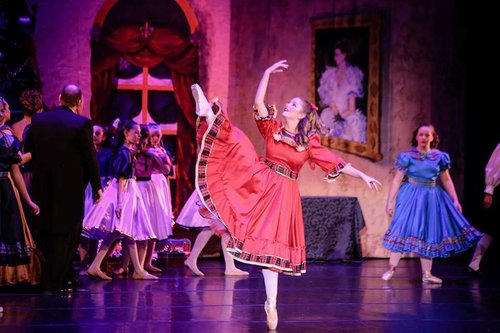 Ballet, Jazz, Tap, Modern, and Musical Theater classes are carefully graded by the age and ability of each student. Students are promoted according to their individual progress. Students are encouraged to attend all classes of their level to assure consistency in their training. Jazz students are encouraged to attend ballet class as ballet technique is very beneficial to jazz dancers.
Pointe is for those students who demonstrate a clear understanding of proper execution of ballet technique. Students prepare for pointe work with every class they attend throughout their training. A required Alignment class is offered to pointe candidates, which focuses on strengthening the back and abdominal muscles. The dancer's ability to maintain proper alignment of the torso is essential to pointe work. Students will be counseled on their progress in the fall and new pointe students generally begin pointe work in January. Pointe students are required to attend three ballet classes per week.
Dress Requirements
| | | |
| --- | --- | --- |
|   | Girls | Boys |
| Creative Movement | Red Leotard | T-shirt |
|   | White Tights | Shorts |
|   | Pink Ballet Shoes | White Ballet Shoes |
|   |   |   |
| Pre-Ballet | Royal Blue Leotard | Same as above |
|   | White Tights |   |
|   | Pink Ballet Shoes |   |
|   |   |   |
| Ballet | Black Leotard | White T-shirt |
|   | Pink Tights | Black Tights |
|   | Pink Ballet Shoes | White Ballet Shoes |
"F" Level ballet students are allowed to wear any solid color leotards.
Modern, Tap, Jazz, & Musical Theater
Any color leotard, tights, unitard or jazz pants. Black jazz or tap shoes. Although the dress code is much more relaxed for tap and jazz, keep in mind that your instructor needs to see your body to assure proper execution of movements.
All Classes
No jewelry, watches, skirts, etc. are to be worn in class. Warm-up clothing may only be worn in the winter months and must be removed after the first ten minutes of class.
Hair
Hair must be secured back from face for all classes.

Ballet students are required to have their hair in a neat, secure bun.


The line of the neck and shoulders is very important to ballet training. When the hair is not up it disrupts this line. Loose hair also hinders the students ability to learn such movements as turns. Students with short hair should do everything possible to secure the hair back from their face and up from the neck.